No One Had To Tell Us - by Claire Karst Rivero, Performed by Freya Perry
Note: This song was written in the aftermath of the revelations of church-run orphanages selling children and in some cases killing them, with bodies buried in mass graves.
---
I Have Seen a Woodland at Fall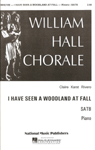 Text by Alan Watts, Sung by Ingrid Harwood, Miquel Cadoy, John Galliano.
Distributed by Hal Leonard Music
- See the
VIDEO
---
Tarantelle Fantastique - Listed in the
Classical MIDI archives.
---
Fanfare for Everyman
---
Inner Child's Play
---
Aria
---
Awakening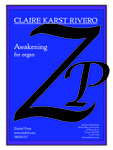 Published by Zimbel Press
---
Lulliby for Leah
---
Nocturne
---
Curse of Brand-X
---
Madrugada
---
Murio al Amanecer
---
Cancion Inutile
---
Song of the Barren Orange Tree
---
HOME BAKED ENTERTAINMENT 2011-2018